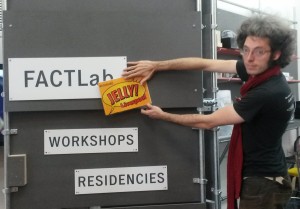 Coming up on the 15th October – Factlab has very kindly offered to host Jelly once again. Thiago, the current Tech in residence has reserved the space for us, I managed to catch him putting up the sign the other day.
Last time at Jelly….
Some serious concentration
The twitter wall joke ran and ran
Whats Jelly all about…..
Jelly gives those working in the Digital and Creative sectors the opportunity to meet, work, discuss and collaborate.
The idea of Jelly Liverpool is to provide chairs and tables, wireless internet and coffee but more importantly interesting people to talk to, collaborate with, and bounce ideas off.You bring a laptop (or whatever you need to get your work done) and a friendly disposition.
This was the artistic distraction that many of us had a play with – Jelly isn't really this exciting normally.

It's free so just book below and come along from 10am – 5pm.  Everyone is very friendly so see you there.